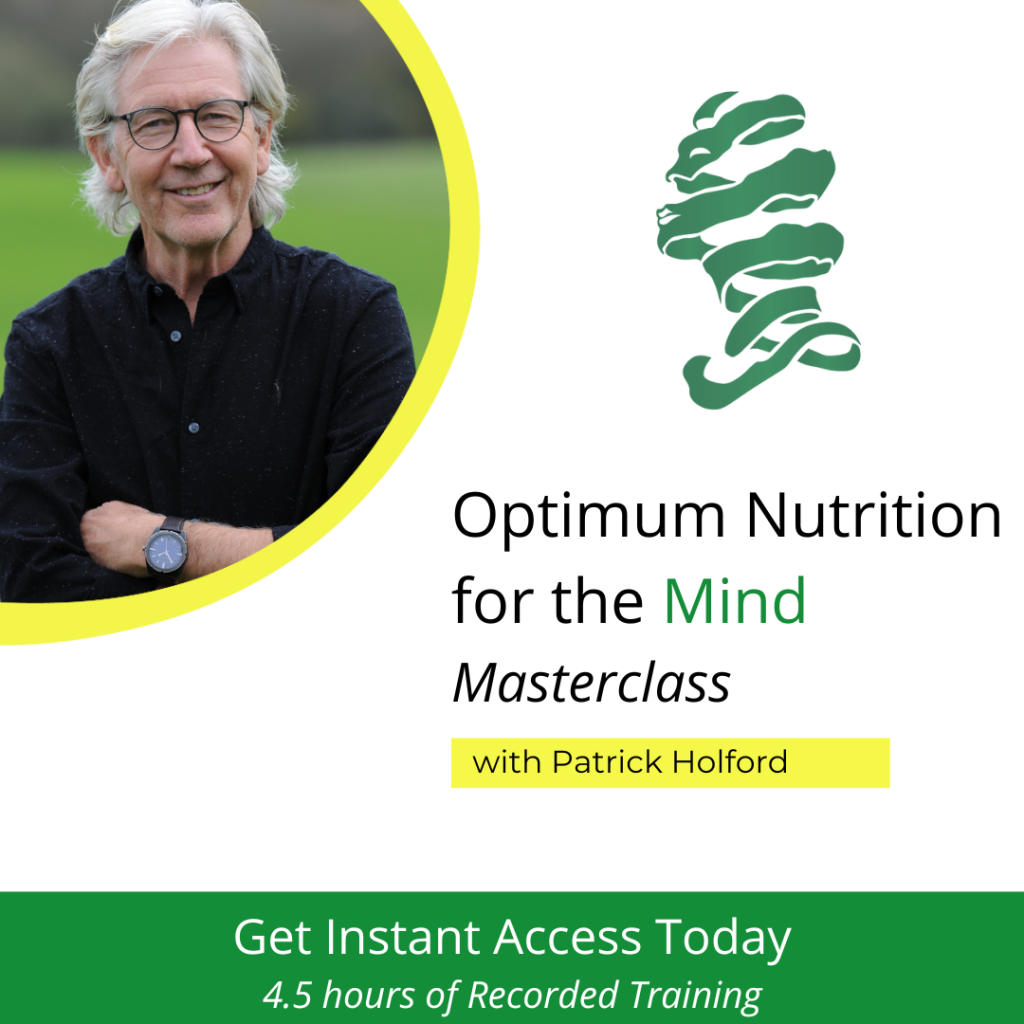 There is no need to have declining energy, memory, motivation and mood.

There is no need to struggle with anxiety, stress or sleep issues.

In this online recorded masterclass, you'll learn everything he's learned in 35 years exploring optimum nutrition for mental health. Including how to support brain health at all ages.
"If you get nutrition right for the brain it's right for the body." says Patrick Holford, founder of the Institute for Optimum Nutrition and the Food for the Brain Foundation.
---
It includes 4.5 hours of lectures on:
Increasing your and your child's IQ and improve concentration

Boost your memory and make yourself Alzheimer's proof

Enhance your mood, emotional stability and banish mood swings

Beat anxiety, stress and sleeping problems

Balance hormones to relieve PMS, thyroid, menopause and andropause symptoms

Reverse learning difficulties, hyperactivity and ASD

Where to begin to address and support conditions like autism, schizophrenia etc.
The Masterclass, while focussed on nutrition, also includes simple lifestyle changes and exercises for optimising mental health and helping de-stress, stay centred and sleep well.
It also explores schizophrenia, Parkinson's, epilepsy, Autistic spectrum disorders and any other mental health concerns you may have for your family.
The masterclass was recorded from a live in person event so you also get the benefit of on going Q&A from the audience.
Get instant access to this Masterclass that you can watch at your own pace. Perfect for CPD or for you own personal interest and disease prevention.
"In my experience this approach works far better than medication. It is the future of an enlightened approach to psychiatry."
Dr Hyla Cass, Psychiatrist
---
About Your Teacher
Patrick Holford is a founder and CEO of the charity, is the director of the Alzheimer's Prevention Project. He is a retired visiting professor, specialising in nutrition and mental health, author of 46 books and is in the Orthomolecular Medicine Hall of Fame. In 1984 he founded the Institute for Optimum Nutrition. He is also the Chair of the Scientific Advisory Board.
Get INSTANT access Today
Gain 4.5 CPD Points for attendance!
(Please note no CPD certificates will be given)
All the speakers kindly donated their time free of charge so all proceeds from ticket sales go towards the charity's research and the Smart Kids project.
Thank you for supporting this project.



Food for the Brain Foundation is an educational charity no: 1116438.
All proceeds go to the Alzheimer's is Preventable Campaign.
Food for the Brain is supported by becoming a FRIEND.
Co-hosted with