TESTS – available in North America, UK and EU
We are looking for volunteers to join our Brain Upgrade Project. All it takes is a pin prick of blood using a home test kit to measure your homocysteine (B vitamin status), omega-3, vitamin D and HbA1c (glucose control). Optimising these are associated with the lowest risk for Alzheimer's and the best brain function. Only by doing this research can we truly find out what the optimal levels really are and what diet and lifestyle changes improve your results.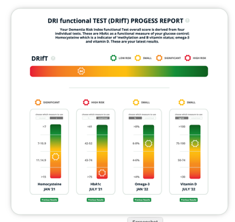 As well as recording your changes, hopefully improvements over time of your cognitive function via the Cognitive Function Test you just did, and your Dementia Risk Index via the online questionnaire you've completed, we want to record your blood levels of the four most essential markers of brain health. Combined together this is your Dementia Risk Index functional Test (DRIfT) score. This is recorded in your DASHBOARD.
If you haven't done your Cognitive Function Test yet and the questionnaire that follows it, please do from the home page after you've ordered your test kit(s).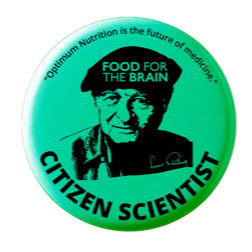 This information is vital for you to optimise your brain health, and vital for our research to establish what really prevents age-related cognitive decline and ultimately Alzheimer's. By becoming a 'citizen scientist' in joining this project you also join COGNITION (and receive educational guidance to 'upgrade your brain' by dementia-proofing your diet and lifestyle.
As a COGNITION subscriber you receive one month's free membership with every test kit you buy. Join COGNITION.
We will advise you what to do – eat and supplement – to optimise your test results.
If you have done the Cognitive Function Test already LOGIN first to save you time
Omega-3 Index

What?

This measures EPA and DHA.These two important omega-3 fats found in seafood, are essential for brain health. The Omega-3 Index measures the amount of EPA and DHA in red blood cells (RBC). The result shows the % of total RBC fats, and is a long-term, stable marker of omega-3 status.

A higher Omega-3 Index has been associated with optimal cognitive function and cardiovascular health and redcued risk of many diseases. Omega-3s are beneficial for normal vision, anti-aging, skin health, maternal health, immune function, brain health, heart health, normal liver function, joints and muscles.

Experts recommend an Omega-3 Index of at least 8%.

$

60.44

—

or subscribe and save up to

6%

Add to cart