Schizophrenia Redefined: Exploring the Role of Nutrition and Ketogenic Diets with Dr James Greenblatt MD
Date: 27 April 2023
Time: 6:00pm
Attend virtually: Zoom
A link will be sent to all attendees
Where: Zoom (Zoom link will be sent to all attendees and a recording will be sent after the webinar)
Summary
Schizophrenia is a multifactorial psychiatric disorder producing a spectrum of symptoms including psychosis. Schizophrenia is associated with significant disabilities and affects all areas of life. The current therapeutic model for schizophrenia relies exclusively on pharmaceutical agents for symptom suppression. The medications used to treat psychosis and schizophrenia have significant side effects and are associated not only with a diminished quality of life but also decreased life span.
The growing body of research has demonstrated that diet and nutrition can reduce or eliminate the symptoms of schizophrenia. Research has looked at the role of oxidative stress and metabolic abnormalities in the onset and progression of psychosis.
In this webinar, Dr. Greenblatt will discuss the scientific literature and 30 years of clinical experience looking at the role of nutrition as a modifiable risk factor in the development and progression of schizophrenia and psychosis. This webinar will focus on the role of ketogenic diets, antioxidants, and gluten.
What to expect
About Schizophrenia and the current treatment model

Current research and mechanisms behind Schizophrenia and what biochemical imbalances may impact onset and progression of psychosis

Nutritional strategies to help reduce symptoms of Schizophrenia including the ketogenic diet and gluten-free diets
We will have a 15 minute Q&A at the end. If you have any questions for Dr James Greenblatt, please send them to laura@foodforthebrain.org in advance.
Tickets
£10 for FRIENDS or COGNITION subscribers
About Dr James Greenblatt MD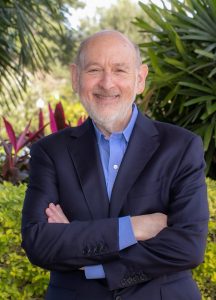 A pioneer in the field of integrative medicine, James M. Greenblatt, MD, has treated patients since 1988. After receiving his medical degree and completing his psychiatry residency at George Washington University, Dr. Greenblatt completed a fellowship in child and adolescent psychiatry at Johns Hopkins Medical School. Dr. Greenblatt served as the Chief Medical Officer at Walden Behavioral Care in Waltham, MA for nearly 20 years, and is an Assistant Clinical Professor of Psychiatry at Tufts University School of Medicine and Dartmouth College Geisel School of Medicine.
An acknowledged integrative medicine expert, educator, and author, Dr. Greenblatt has lectured internationally on the scientific evidence for nutritional interventions in psychiatry and mental illness. Through three decades of practice and research, Dr. Greenblatt is a leading contributor to helping physicians and patients understand the role of personalized medicine for mental illness.